Making Good Technology Great
What makes a great piece of tech? "Think contact lenses," says our CEO Luke. "They're so reliable and easy to use that we don't even consider them to be 'technology' anymore."
We've got decades of experience in the "great" department. Since 2001, we've helped some of the most iconic companies put perfect products in the hands of their awaiting customers.
This ebook outlines how to bridge the gap in the last mile of development so your products are dependable, delightful, and destined for greatness. It's all taken directly from the knowledge we've accumulated over 20 years, hundreds of companies, and thousands of winning products. We'll give you the continuous customer testing basics that leaders across product categories are using, as well as specific use cases for each industry.
What does a "perfect product" look like? Here's how we define it (and how we'll get you there).
Meets Technical Requirements
Our continuous testing model ensures your product functions exactly as intended — at launch and at every release.
Offers an Amazing Experience
With ample target market feedback at your fingertips, you'll wow your audience with a finely calibrated user experience.
Exceeds Customer Expectations
A perfect product does more than function. Centercode lets you anticipate and build off of your customers' evolving needs.
Blows Revenue Forecasts Out of the Water
A delighted customer base means five-star reviews for your product and skyrocketing sales for your company.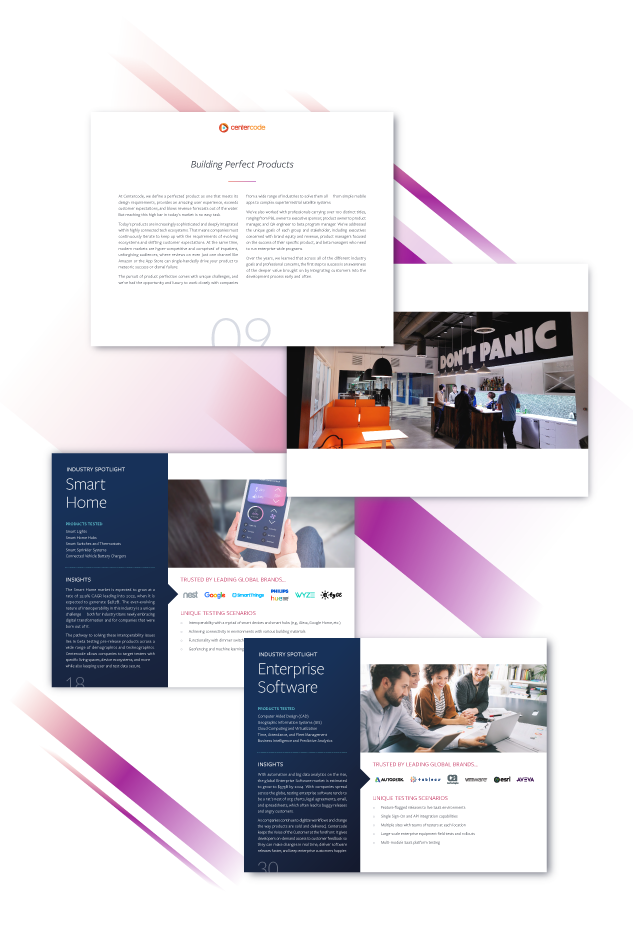 Over the last two decades, we've helped hundreds of companies bring thousands of products to market. Inside this ebook, you'll have access to our deep-sleeve expertise in specific product categories, including:
Smart Home
Smart Appliances
Home Security
Home Audio
Home Theater
Streaming Entertainment
Mobile Apps
Connected Fitness
Wearables
AR and VR
Consumer Software
Enterprise Software
Telecom
Centercode has helped all these companies (and more)...
Let's take your product from good to great. Download now.