Here's How Centercode Customers Unlocked 646% ROI from Beta
Every organization has its own way of managing beta. But if you've ever been part of the process, you know that delivering the ROI your company expects is hard. We're here to tell you that's a pretty universal experience. After all:
Beta is time-consuming. There are many moving parts to a beta test, and each one plays a key role in turning a good product into a great one.
It's costly. Hiring the help necessary to manage the increasing demand for customer testing can drain resources when staying lean is more critical than ever.
It's too slow for Agile. Waterfall is behind us now, and customer tests that take weeks and weeks to complete aren't compatible with Agile.
It's hard to keep testers engaged. Between finding target market testers and keeping them active throughout a project, engagement is a commitment — often with little reward.

Enter Centercode. We conducted a return on investment study with actual customers to see just how partnering with Centercode helped them tackle these challenges. Spoiler: they knocked them out of the park.

From the time saved and costs reduced to bugs found and fixes validated, companies across several industries (including consumer electronics, telecom, and fitness) have dramatically increased the effectiveness of their beta programs. But you know what? Let's let the numbers speak for themselves.

2.8 Million Reasons Why Leading Tech Makers Partner with Us
Our customers saw big benefits by adopting Centercode's platform and service solutions. Here are just a few of the key findings from the report.
Millions of Dollars Saved
Customers used Centercode to avoid $2.8M in costs by fixing bugs prior to product release.
40% Less Time Spent Testing
Our customers reduced the overall time it took to complete research studies, resulting in labor cost savings of over $620K.
More Feedback Collected
Centercode solutions increased project quality by delivering over 3,600 new pieces of feedback.
Increased Engineering Efficiency
Organizations using Centercode saw a 10% boost in engineering efficiency, with a cost savings of $121K.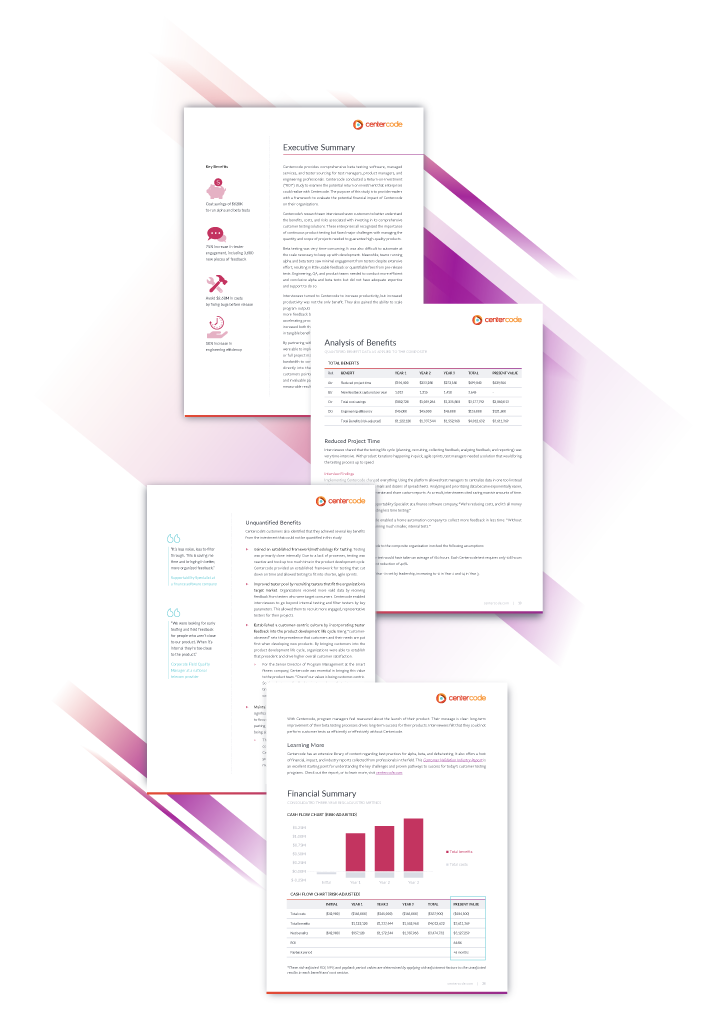 Centercode has helped all these companies (and more)...
Unlock the secret to 646% beta ROI by downloading the report.